Sunday 1999 November 28 / By Michel Dufour

It's passion: The Bus! Jacques Matte is not an ordinary bus driver.

Jacques Matte is not an ordinary bus driver. For him, the transit universe is not only a work; it's a passion that brings him to show an interest about buses from all around the world.

In 1979, Jacques Matte was a junior civil servant for the Quebec Government. After the 1979 transit bus strike, the opportunity to become a bus driver arose. ¨ My wife was pregnant at that time and the wages as a bus driver where twice as what I had, so I didn't resist and I made the move ¨.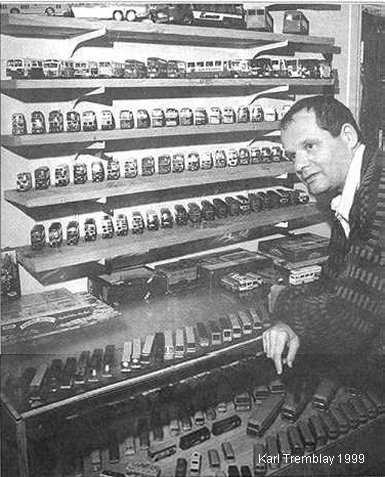 Jacques Matte will never have to regret that decision; ¨ I followed the driver training on the G.M.C. New Look, I will never forget, it's the bus I like the most, I think it's one of the best.¨
It's experience as a mechanic in the Canadian Forces Reserve and the joy he had about it brought a different approach to a passion whom was arising as the years go by.
¨When I am at the control, I feel good; I really enjoy being on the road, those are the best moments.¨
During the year 1987, Jacques Matte began to collect model bus from all around the world, and to take pictures of the real ones. Bus Collecting in America is not so simple; the models are not more than roughly cheap toys: ¨At first, I started with model railroading; to realise that all the train collectors had the same things, buses and coaches are a more particular field¨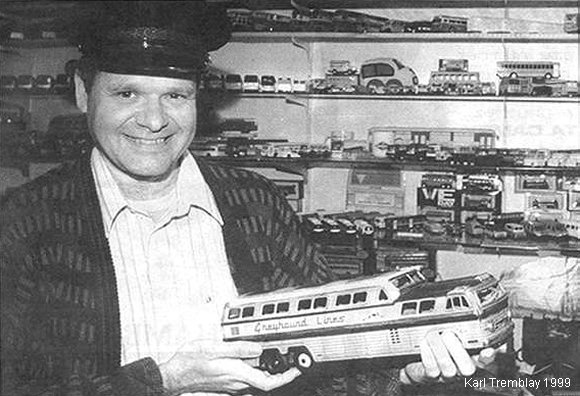 As Jacques Matte told us, the best quality models came from Europe. There you can find specialised stores who have models of what is on the road from all over the world. Most of the bus collectors got between 30 and 40 models, Jacques Matte have 1114 models, with pictures of the real thing to enhance the model ones. He have the most important model bus collection in the Quebec Province. And as the passion didn't know frontiers, Jacques Matte have it's own Internet site for the Busfans. (www.cybershack.qc.ca/busfan)
He has a real one! The prouwdness of Jacques Matte is a Prevost Car used in the fifties by Autobus Drolet, that bus is it's own property.
¨There was really few of that model built; around 123, both transit and suburban. It's a real gem! It is in good mechanical condition, I wouldn't be afraid to compare it with buses that are on the road today; but there is no actual market for it.¨
Traduction: J.Matte